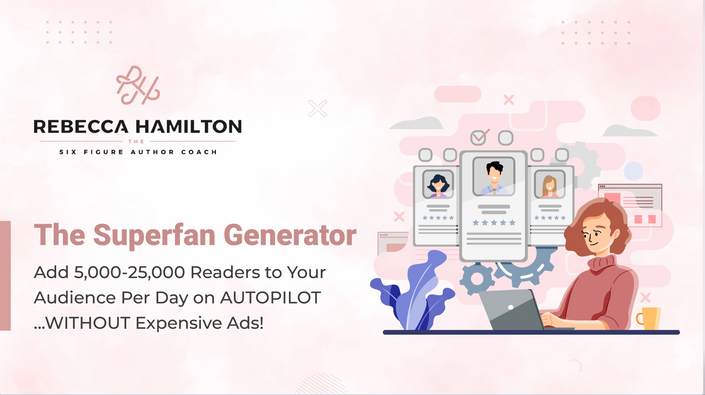 The Superfan Generator
Add 5,000-25,000 Readers to Your Audience Per Day on AUTOPILOT...Without Expensive Ads!
Add 5,000 - 25,000 Readers To Your Audience Everyday On Autopilot Without Expensive Ads
If you wrote a book (or are currently writing one) and find yourself wasting all your time on social media searching for readers…

…it doesn't have to be that way.
Listen, it's not your fault you got stuck in that trap, and you're not alone. You just haven't been shown a better way.
Until now.
But let's back things up for a moment.
Why do writers start down the author career path in the first place? Usually it's because they love storytelling. Not once did they say to themselves, "I'm going to become an author because I love promoting things."

Authors are not promotional experts.

But to sell their amazing stories, they do have to find an audience of readers…
Then turn them into buyers.

To do that, they need some kind of promotional outlet.
For some, that might be paid newsletter features or advertising, but some authors can't afford those ongoing expenses.
They're looking for something more affordable to get started, and so they turn to social media.
The problem is the amount of time that takes…
Managing social media channels, posts, video editing, the DMs, the Facebook group, the ads, the strategy…
…if they even have a strategy.

And if they do, is it the right strategy?
Bottom line is, if you spend the majority of your time trying to find readers, then that's taking time away from what you actually want to do: write.
And that's the whole reason you started this journey!
Now, onto a better way...
There's a little-known secret I want to share with you.
After a few hours of time setting up a clear, organic outreach strategy, you can spend as little as five minutes a day growing and nurturing your audience to turn them into raving superfans!
Hi, I'm Nicole. I'm a dystopian author and a member of Rebecca Hamilton's Seven Figure Author Career Team. I've worked as a blurb editor, blurb writer, line editor, language fix editor, proofreader, appointment setter, plotter and, most importantly, I dedicate dozens of hours each month to helping authors become bestsellers and make 6+ figures a year writing fiction.
How do I do it?
By growing audiences packed with superfans!
And now I'm going to show you how, too!
Introducing…
The Superfan Generator
The only video mini-course for authors that walks through the easy, step-by-step process of generating a highly engaged audience who are primed to buy book after book.
Whether you're a brand new fiction author, been at this for a while without progress, or have made some progress, but you've gotten stuck, The Superfan Generator is perfect for authors at any level.
What's Inside?
Lesson 1: Creating Your Tool Account

Walkthrough of the tech details of our favorite group management tool!
Lesson 2: Logging In and Downloading Google Extension
The first steps to configure this unique tool and get its magic working for you.
Lesson 3: Setting Up Pipelines and Linking Your Facebook Group
Set up pipelines to turn potential readers into dedicated consumers.
Lesson 4: Managing Contacts
How to see an overview of your reader contacts and manage them with bulk processes.
Lesson 5: Adding Contacts From Groups and Pages
With just a couple of clicks, fill your account with potential leads and contacts.
Lesson 6: Creating and Sending Messages
Automatically send 150 messages to your contacts a day, without landing in Facebook jail for "talking too much."
Lesson 7: Pipeline and Messaging Strategies
A cohesive strategy to turn specific groups of readers into superfans, and our four recommended pipelines for maximum sales.
Lesson 8: Using Tags and Automations
Continuously automate Facebook posts for activity and send messages to commenters to boost your post engagement and your message open rates!
Lesson 9: Adding FB Group Members to Your Newsletter
Automate your Facebook group joins into newsletter subscribers!
Bonus Lesson 1: Daily Task List and Walkthrough
Once you finish your initial setup, it takes 2 minutes a day OR LESS to contact new potential readers.
Bonus Lesson 2: Done For You Templates

The exact message to pin in your Facebook group to make the most out of each Facebook group member!
How to talk to readers who are already in your group!
How to talk to readers who are familiar with you but haven't joined your group.
How to talk to readers who have never heard of you before!
After working through the 9 content videos, you will:
Have a well-oiled organic machine for finding new fans and buyers on Facebook and Instagram
Keep an organized history of all your reader and buyer conversations to make follow up easy and seamless so you never miss a potential sale
Turn hours of promotional outreach time into five minute a day that even a virtual assistant can complete
Who is The Superfan Generator for?
Both new and established fiction authors want to grow their audience and make more sales without being chained to their computer marketing all day
Authors who have or are creating a Facebook group community
Authors who are ready to work smarter not harder to build relationships with readers and turn them into buyers
Authors who enjoy self-led learning without having to search for (usually unhelpful) information on Google or YouTube
PS: FAQs MATTER
Please read the FAQs are the bottom of this page before making a purchase.
___________

If you've read this far and are thinking to yourself, "How can I bootstrap this?" this is not for you.

While you could do it all yourself, you'd be tired and overworked. Sure, you can invest your time with manual organic outreach, but that's not what this course is for.

This course is for those who see the value of investing in their author career to take it to the next level. Not everyone does. (And that's okay!)
We're here for authors who are tired of grinding for pennies and ready to turn their expensive hobby into a real career.

If that's you and you're ready for your author career to take off…
…and you see the value in maximizing your time and energy and how this course will help catapult your career…

Then let's gooooooo!
I'm so excited for the freedom and growth you're about to experience!
Get The Superfan Generator To Grow Your Audience & Make More Sales On Autopilot!
Start now for just $499!
Your Instructor
Nicole Adrianne is a full-time volunteer, cat lover, and tech enthusiast. She lives in Stockholm, Sweden, with her four cats, where she not only survives but thrives on the spectrum. When she's not busy creating lush dystopian worlds, she's probably cooking an adventurous new recipe, learning a foreign language, reading a thrilling novel, or watching Star Wars. Learn more about her work on LinkTree!
Course Curriculum
Intellectual Property Agreement
Available in days
days after you enroll
Done for You Templates
Available in days
days after you enroll
Frequently Asked Questions
How much time is required?
The course is broken into bite-sized chunks so you can spend 20 minutes working for nine days, or you can work at your own pace - faster or slower based on your schedule.
Is there a community with this product?
Feel free to join us in our Facebook Group, Writing and Marketing Strategies for Authors
Is everything available immediately?
Yes, once the course is purchased, you will immediately be emailed a link to log into Teachable, the course-hosting site
How long do I have access to the content?
You have lifetime access to the course content.
What else is required for this course?
A monthly subscription to our number one recommended Author Outreach Tool is required for this course. The cost is $157 per month, which comes to about $5 a day. This price covers up to 25,000 leads a day, which comes to about ⅕ of a penny per lead.
Are there any other policies I should know about?
We have two rules in place to protect our intellectual property from theft. The first is that we require students to e-sign an intellectual property agreement when taking out programs (that will be the first lesson inside), and the second is that you may not view any of the material and receive a refund. For this reason, we request you ask any questions you have prior to making a purchase to ensure you are 100% sure this is right for you before you sign up.